BECAUSE YOUR CUSTOMERS DESERVE BEST
Finance Plus as a platform offers an end-to-end integrated platform, giving businesses visibility into their order and fulfillment process, zero accounting errors and a hassle-free tax period.
"With Zoho Finance Plus, businesses get an interface to manage their transactions day to day and file their Taxs, all from a single platform. Zoho Finance Plus simplifies returns filing for businesses and increases compliance,
Business will need a comprehensive interconnected suite of financial apps that talk to each other and share data seamlessly. Zoho Finance Plus claims to connect different departments of a business and give business owners access to real-time information for faster decision making.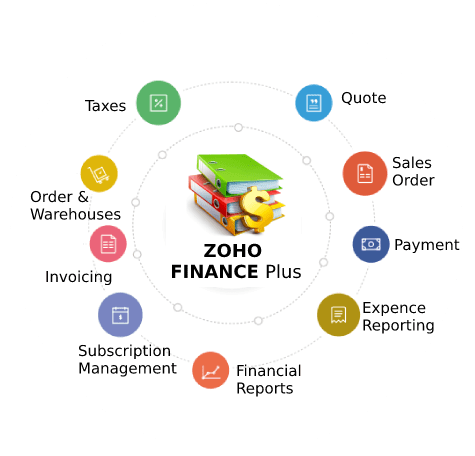 WHY SHOULD YOU CHOOSE ZOHO FINANCE PLUS?
End to End Integrated platform
Contact Management
Inventory and Warehouses
Expense Reporting and Reimbursement
Manage Subscription
Accounting and Online Payments
Tax Compliant
One-time and Recurring payment pages
OUR ZOHO PLATFORM SERVICES