BECAUSE YOUR CUSTOMERS DESERVE BEST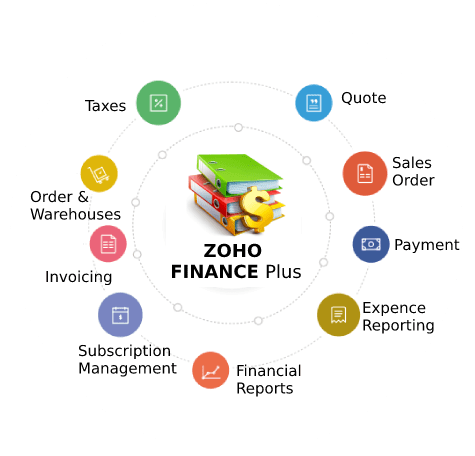 Finance Plus as a platform offers an end-to-end integrated platform, giving businesses visibility into their order and fulfillment process, zero accounting errors and a hassle-free tax period.
"With Zoho Finance Plus, businesses get an interface to manage their transactions day to day and file their Taxs, all from a single platform. Zoho Finance Plus simplifies returns filing for businesses and increases compliance,
Business will need a comprehensive interconnected suite of financial apps that talk to each other and share data seamlessly. Zoho Finance Plus claims to connect different departments of a business and give business owners access to real-time information for faster decision making.
Zoho Finance Plus suite includes Zoho Books, an accounting and invoicing software for forward-thinking businesses, Zoho Invoice, an invoicing software for freelancers or businesses to get paid on tim, Zoho Expense, an expense reporting solution tailor-made for businesses to automate their employee expense reimbursements, Zoho Subscriptions, a solution for subscription-based businesses to automate their recurring billing,Zoho Inventory, an order management and fulfillment solution for retailers .
OUR ZOHO PLATFORM SERVICES
WHY CHOOSE FAIRCHANCE FOR CRM ?
Fairchance For CRM handles the different Zoho projects in all over the world. As the authorized partner of Zoho we implement dedicated Zoho applications including Zoho CRM, Project, Campaigns, Books etc, and create the effective tools needed for you to develop your business in a professional way. We are bound to give high standards and quality service at a competitive price.
We know our client's needs and serve all those who want to work with us. We are able to mix and match miscellaneous channels and perfectly match them to the demands of the client with experience and support. We analyze each project precisely, then we make our suggestions, and advise the customer create a accurate solution.
With so many new products and options to choose from having some guidance and support is essential. This is why Fairchance For CRM provides comprehensive training of the product by using available resources, materials and tools before handing it over to you to better understand the product and promotes your business.
WHY SHOULD YOU CHOOSE ZOHO FINANCE PLUS?
End to End Integrated platform
Contact Management
Inventory and Warehouses
Expense Reporting and Reimbursement
Manage Subscription
Accounting and Online Payments
Tax Compliant
One-time and Recurring payment pages