In comparison to the competition, we offer superior quality and service. Every order is double-checked to guarantee that each client receives precisely what they requested.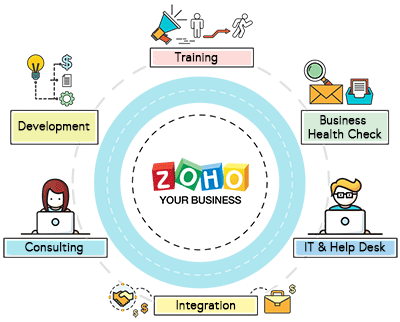 For the purpose of developing and perfecting the customer's business, we inquire about the customer's requirements. In order to obtain the customer's requirement, our specialist consultants investigate the customer's business and the requirements associated with it in great detail. In this regard, FAIRCHANCE FOR CRM set up a number of meetings and sittings with the owners and representatives of the company in order to get an in-depth understanding of the customer's wants and expectations. In the subsequent step, following the collection of all of the needs, our knowledgeable and seasoned team analyzed all of the requirements and purposed a modal in accordance with the demands, scenarios, needs, and requirements in order to aid the important consumers. Under the watchful eye of seasoned developers, a model is proposed and then confirmed to be developed. The experience developers then work on the model to make it as fully optimized and responsive as possible. Testing is the next process to check the product by developing tests, user testing, unit testing, integration testing, and some other specifications are also applied to check the product and its streamlining. Testing is the next process to check the product. After the product has been processed for any necessary extra adjustments, it will then be delivered in accordance with the applicable agreement. The demands of our clients must be met, and we must go above and beyond to ensure that all of their expectations are satisfied. This is our top priority. In addition, we make regular updates and corrections to bugs available to our customers in order to ensure that the product will continue to meet the requirements set forth by its users.
We have a crew that is both experienced and well-equipped, and we will be using the ZOHO ONE platform. FAIRCHANE FOR CRM makes it easy for its customers to get free consultations and locate designs that are optimal for their businesses with all of the necessary modification options. There are almost 40 items here, each complete with all of the automation that is necessary for backend organization. ZOHO will prove to be the most effective solution to satisfactorily meet your requirements. Your company will get benefit from having access to a wide variety of ZOHO products, each of which may be modified to be tailored to your organization's particular requirements. FAIRCHANCE FOR CRM's consultants are available to guide and assist you in making the most informed decision possible regarding your next step. You are going to have a lot of fun investigating ZOHO's unique features. It will provide your business and expectations an additional lift as well.
WHY CHOOSE FAIRCHANCE FOR CRM ?
FAIR CHANCE FOR CRM is a hub of experts that handles the different ZOHO projects. We are the aadvanced partner of ZOHO and delivered the ZOHO products world widely. Number of ZOHO applications like CRM, Project, Campaign, Books, Analytics, Creator, Inventory etc are here to facilitate you. Our expert consultants suggest you the best product, our developer team customize them and handle you to automate your business requirements. Our standard and services discriminate us from others.
Our experienced team is here to know the needs and requirements of our valuable customers. Then our consultant suggests and designs an accurate product according to your needs and demands. FAIRCHANCE's experts keenly analyse each project to make it automated and fully mapped to the customer's requirements.  FAIRCHANCE FOR CRM ensure that our products are user-friendly and beneficial for your business. Additionally, to ensure the customer's satisfaction we provide excellent after-sales support.
With our extensive training and assistance, you can feel confident to use your product to improve your business operations. Our team is always available to respond to any inquiries or concerns that may arise and to provide recommendations on how to optimize your software usage. FAIRCHANCE FOR CRM offers ongoing support to ensure that you are maximizing the product's potential.
→

How may we help you?