STEP UP YOUR ONLINE DATA COLLECTION GAME WITH ZOHO FORMS APP.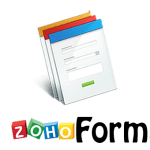 Zoho Forms is an easy and flexible tool which will allow you to create forms using a drag-and-drop functionality, namely to move and transform fields easily in order to personalize your documentation. At the same time, Zoho Forms is mobile-friendly, which indicates that you will be able to create, share, and access content wherever you are. This is beneficial for global companies that have teams assigned in different locations. As a collateral consequence, the firm will also be able to save costly communication funds, as all employees will be able to work together and to share forms instantly.
Zoho gives forms that little detail that lacks to make them more personal, since they are customized easily, and the creator doesn't have to follow any form rules but his own. He won't even have to worry about validating inputs, because validation will happen automatically.
Another thing Zoho Forms handles well are digital signatures: using this program, you can enforce approvals and paper trails, and increase both the credibility and the awareness of your brand. On your behalf, you will confirm that building forms has never been friendlier, since the builder is extremely robust in features, fast, and able to store information in cloud.
Finally, Zoho Form will transform your working environment into a pleasant collaboration haven, where all members are connected and they share information on time. The risk of missing deadlines and losing data are minimal, and the same is protected from any potential intrusion or misuse
OUR ZOHO PLATFORM SERVICES
WHY SHOULD YOU CHOOSE ZOHO FORMS?
Drag & Drop Elements
Responsive Forms
Team decisions
Record Summaries
Approvals
Sharing
Email Campaigns
Offline sharing with QR codes
Sheets
Analytics
Customization
Integrations