Get From Apps to Operating System
Transform your fragmented collection of cloud applications, outdated tools, and paper-
based processes into an operating system that caters to all aspects of your business.
ZOHO ONE is a collection of integrated business apps that may be used across a wide variety of corporate tasks and departments, including sales and marketing, as well as finance and human resources. ZOHO ONE is a business software solution that was developed by ZOHO Corporation, a renowned business software firm. As a result of its comprehensive approach and ability to increase operational efficiency, ZOHO ONE has been a popular choice for companies of all sizes.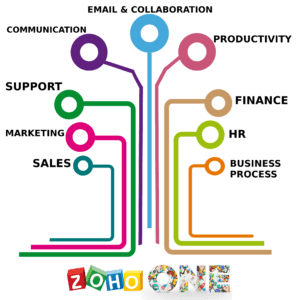 Having the proper resources to handle your organization properly is crucial in today's highly competitive and digital market. This is where ZOHO ONE comes into play as a full and comprehensive answer tailored to the requirements of business-to-business operations.
ZOHO ONE merges more than fifty distinct business apps onto a single platform, making it possible to integrate various divisions of the company in a seamless manner and making it easier for teams to work together. ZOHO ONE provides a wide variety of solutions to meet the requirements of any organization, including customer relationship management (CRM), project management, accounting, and customer.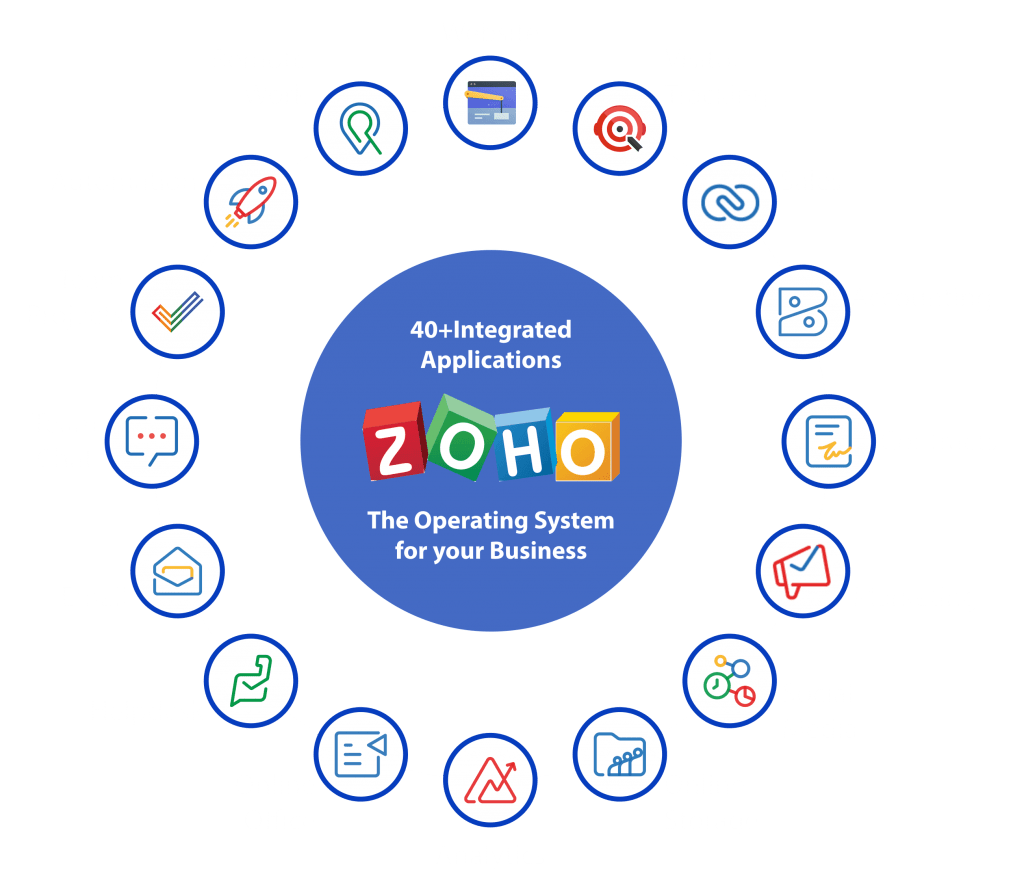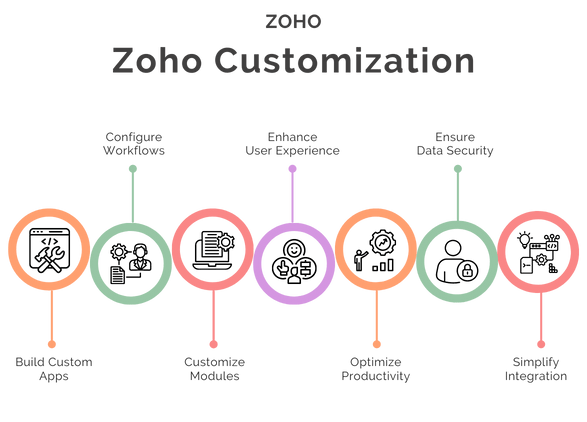 Customization and flexibility:
ZOHO ONE's capacity to customize itself to the operations and workflows of each individual business is one of the product's most notable advantages. You are able to adjust applications to the specific needs of your company and guarantee that they are in line with your objectives thanks to the extensive configuration and customization choices.
B2B organizations can save money by selecting ZOHO ONE as an alternative to investing in several solutions and paying for individual licenses because the pricing model for ZOHO ONE is based on subscriptions rather than one-time payments. You pay a flat rate per user to have access to all the programs that are included in the suite, which enables you to take full benefit of all the functions without incurring any additional.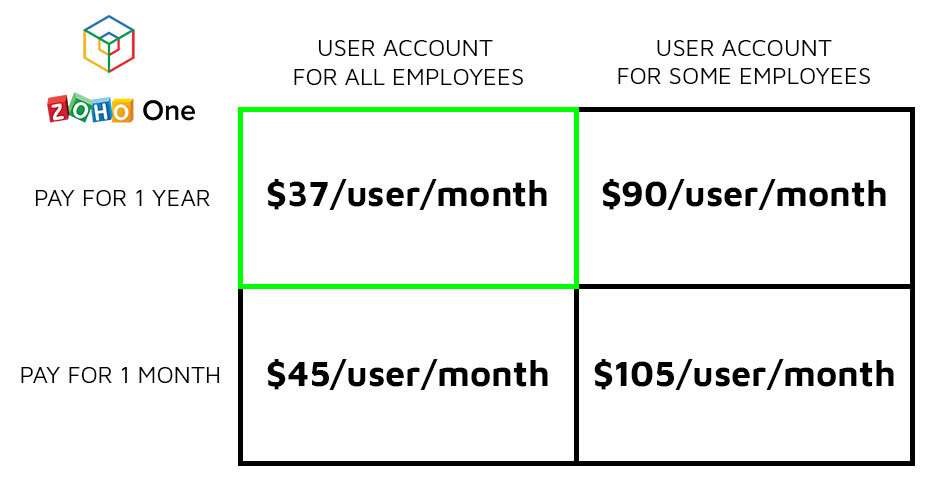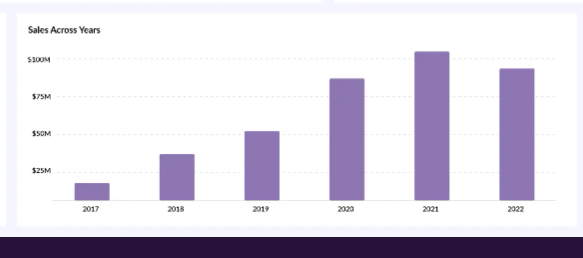 Data-driven analytics and decision-making:
You are able to acquire vital insight into the functioning of your organization with the help of the strong reporting and analytics tools that are provided by ZOHO ONE. You are able to gain access to important indicators, visualize data, and make educated decisions in order to maximize the effectiveness of your operations and business plans.
Reliable support and security:
If you use ZOHO ONE, you will have access to dependable technical assistance as well as regular software updates, which will help ensure that your business apps run efficiently. In addition, ZOHO is dedicated to preserving the confidentiality and safety of your data, and the company follows the most stringent security standards now prevalent in the business world.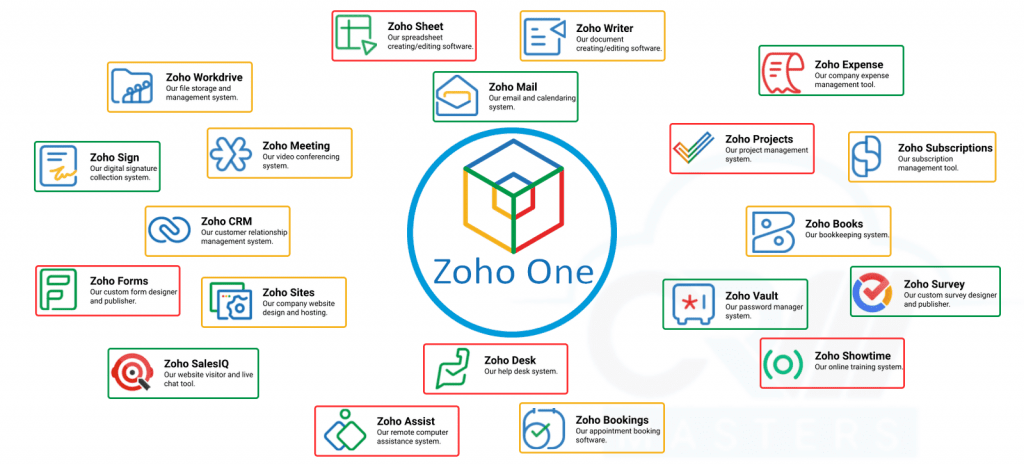 Zoho One
Implementation Method
Zoho One presents a substantial temptation. In this package, you will find nearly all the software essential for running a company. This presents an interesting difficulty as well. The vast majority of users immediately begin juggling many apps. And rather of making things simpler, it adds layers of complexity. Remember that? You certainly aren't alone then! The challenge is figuring out how to effectively implement Zoho One.
Key Benefits from

Zoho One Implementation: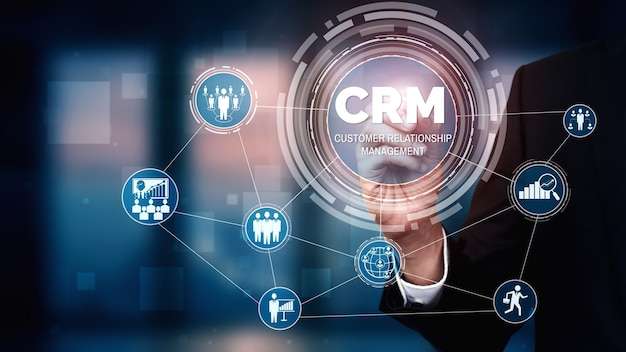 Optimize Your Business With
Zoho One
To help you make the most of your investment in Zoho, as an Advanced partner of Zoho Managed Service Provider, we provide a full suite of Zoho One services, including implementation, configuration, customization, and support.
Our mobile app, Zoho One, allows you to manage your business from anywhere, at any time. This allows you to stay on top of things no matter where you are. We provide first-rate Zoho implementation services for organizations of all sizes, from solopreneurs and start-ups to medium- and large-sized companies.
Is your business prepared to leverage the potential of Zoho One?
Your business-to-business (B2B) operations can be significantly improved by utilizing the various tools that are included in the all-in-one solution known as ZOHO ONE. ZOHO ONE enables you to reach your company objectives in a more timely and effective manner by streamlining your operations through its extensive selection of integrated applications, flexible customization options, cost-effective pricing structure, and sophisticated analytic capabilities. ZOHO ONE is an alternative that you should absolutely take into consideration if you are seeking for a comprehensive solution to increase your company's performance.
By learning every facet of your company's operations in order to better recommend the Zoho software that will best serve your unique requirements, our Zoho implementation specialists will help you get the results you've been hoping for.
Looking for Zoho Partner help? You've come to the right Place!
→

How may we help you?