BECAUSE YOUR CUSTOMERS DESERVE BEST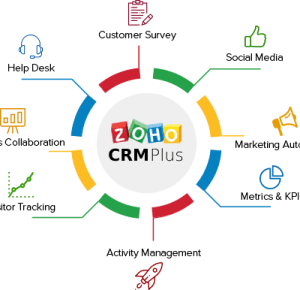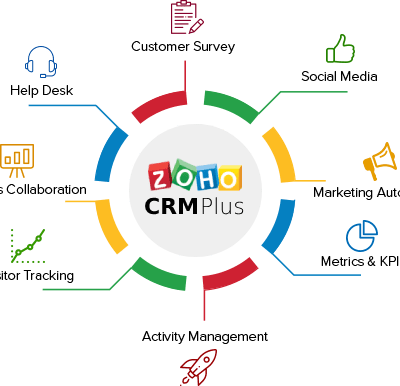 Zoho CRM Plus, the most powerful, unified customer experience platform on the market, built to transform and empower how you cater to your customers at every step of the process.
Zoho CRM Plus provides a suite of business applications on the Cloud, through which organizations have fewer obstacles to creating the best customer experience possible. It includes Sales Automation, Exclusive Email Client for Sales People, Visitor Tracking, Helpdesk, Projects Collaboration, Marketing Automation, Social Media, Customer Survey, Activity Management, and Metrics & KPI.
With Zoho CRM Plus you can: Improve customer engagement, collaboration, and productivity among your sales, marketing, and support teams Reduce operational costs Increase sales performance, sales conversion, and ROI Help your sales team make better sales decisions Reduce the sales cycle Deliver exceptional customer service Target the right audience segment, keep track of competitors and events, build your brand's identity and reputation, measure and analyze social media performance, and track revenue Streamline your team's work, be more organized, collaborate better, and have clear visibility of your project metrics through integration with Zoho Projects Identify marketing trends and make smart decisions to accelerate business growth through real-time reporting.
OUR ZOHO PLATFORM SERVICES
WHY CHOOSE FAIRCHANCE FOR CRM ?
Fairchance For CRM handles the different Zoho projects in all over the world. As the authorized partner of Zoho we implement dedicated Zoho applications including Zoho CRM, Project, Campaigns, Books etc, and create the effective tools needed for you to develop your business in a professional way. We are bound to give high standards and quality service at a competitive price.
We know our client's needs and serve all those who want to work with us. We are able to mix and match miscellaneous channels and perfectly match them to the demands of the client with experience and support. We analyze each project precisely, then we make our suggestions, and advise the customer create a accurate solution.
With so many new products and options to choose from having some guidance and support is essential. This is why Fairchance For CRM provides comprehensive training of the product by using available resources, materials and tools before handing it over to you to better understand the product and promotes your business.
WHY SHOULD YOU CHOOSE ZOHO CRM PLUS?
Sales automation
Exclusive email client for sales people
Visitor tracking
Helpdesk
Projects collaboration
Marketing automation
ANALYTICS AND MEASUREMENT
REPORTS
COLLABORATION
SCHEDULES
EXTENSIBILITY