EMPOWERING SUBSCRIPTION BUSINESSES ACROSS THE GLOBE.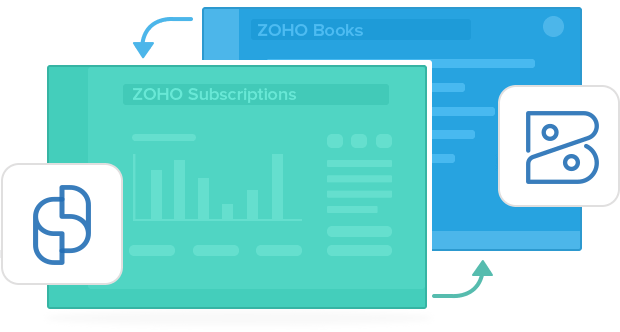 Zoho Subscriptions is a cloud-based recurring billing and subscription solution designed to handle every aspect of your subscription-based business. This innovative and simple app helps you address payment failures and chase overdue payments from your clients using the dunning management feature. It also offers businesses and individual subscription providers with multi-currency invoicing, trials, discounts, offline and online payment methods, between other features.
Zoho Subscriptions is loaded with pre-integrated tools and applications right at the data level to make it compatible with Zoho Books. Every transaction related to new subscriptions, renewals, customer credits, and refunds will be instantly available in Zoho Books, which saves the user the time and effort it would take to transfer data manually. As this integration involves zero clicks, zero efforts, and zero costs, the user is liberated of all manual entries for any of Zoho's productivity suite products.
With subscriptions metrics displayed in very comprehensible charts, understanding your businesses is simply not a pain at all. In fact, you can easily derive insights and make smart business decisions on the fly.
OUR ZOHO PLATFORM SERVICES
WHY CHOOSE FAIRCHANCE FOR CRM ?
Fairchance For CRM handles the different Zoho projects in all over the world. As the authorized partner of Zoho we implement dedicated Zoho applications including Zoho CRM, Project, Campaigns, Books etc, and create the effective tools needed for you to develop your business in a professional way. We are bound to give high standards and quality service at a competitive price.
We know our client's needs and serve all those who want to work with us. We are able to mix and match miscellaneous channels and perfectly match them to the demands of the client with experience and support. We analyze each project precisely, then we make our suggestions, and advise the customer create a accurate solution.
With so many new products and options to choose from having some guidance and support is essential. This is why Fairchance For CRM provides comprehensive training of the product by using available resources, materials and tools before handing it over to you to better understand the product and promotes your business.
WHY SHOULD YOU CHOOSE ZOHO SUBSCRIPTIONS?
Recurring Billing
Subscription Management
Subscription Metrics
Subscription Finance
Payment Gateways
Integrations
Powerful APIs
Events and Webhooks
Hosted Pages